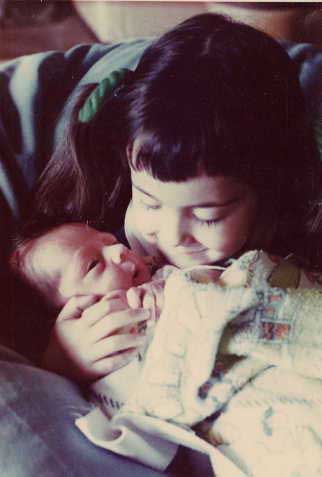 ---
Jessica holds holds her new baby brother (me). She was about four years old at the time of this photograph.
---
These photographs document not only the worst moments of my sister's mania, but also the time of her recovery. Altogether they span about a year, beginning at the start of 1995, and continuing into the summer and winter months. I worked closely with my sister and my family on these pages, and Jessica from the start wanted her story to be heard.

When I first started taking the photographs, I was in high school, and working on the project was powerful healing for me as I watched my sister descend into mania. Behind the lens I was one step removed from the horror of what was really happening. Now over ten years since most of the photos were taken and over eight since this web page was created, the memories are starting to fade. While I rarlely feel the pain or the sadness of those first few months after her death, I know I am still healing. I am healing from the death of my sister, all the while trying to hold on to as much of her life as I can. It is difficult to remember, but I hope you will be able to learn from my sister's story.
---
On the following pages are selections from writings that Jessica composed during her mania which provide a record of her life during that time. During those months, Jessica was always writing, typing away on her computer, or scribbling in a notebook. She wrote about her thoughts, her fears, and about the people around her. This writing was an important outlet for Jessica, and helped her explain her mania and her pain.
At the bottom of each page, please click to see comments about the photos-from both my sister, and from me. All the photographs from the site can be found in the index of photos.
Continue to the rest of the essay
---
All Photographs ©2006-2007 Boris Dolin
Questions or Comments
First Page--Index of Photos--Credits/Memorial--Extras